BJD MP Anubhav Mohanty trolled for seeking like from Salman Khan on his post
Bhubaneswar (TF Bureau): Biju Janata Dal (BJD) MP Anubhav Mohanty was trolled by twitterati for seeking a like from Bollywood star Salman Khan on a YouTube video shared on Twitter.
@BeingSalmanKhan Sir/Bhaijaan, don't I deserve a single like from you please. Love you Bhaijaan even if you never like me.
For the above tweet, the Kendrapara MP had to face severe criticism on the online platform.
A Twitter user Pratyush Kumar Rath (@pratyushrath) wrote: Here MP is begging like from a fake Philantropist… U can make a phone call to him or text him personaly and u have an option to send ur photos to him through Postal or courier, he will definitely reply….
Another user Sudhansu Sekhar Brahma wrote: Unfortunately, I am so sorry to be a citizen of your parliamentary area (kendrapada). It is so shamfull that a loksabha Member begging likes from a criminal (terror|st charged men). Who linked with Dawood, yakub menon. Chhii chhi chiii. Shame on you @anubhavmohanty.
Suspecting the video to be fake, an user made fun of the parliamentarian. Shreeta Das (@kaafi_sufi) wrote: Nice photoshopped picture with abs and all! Get a life.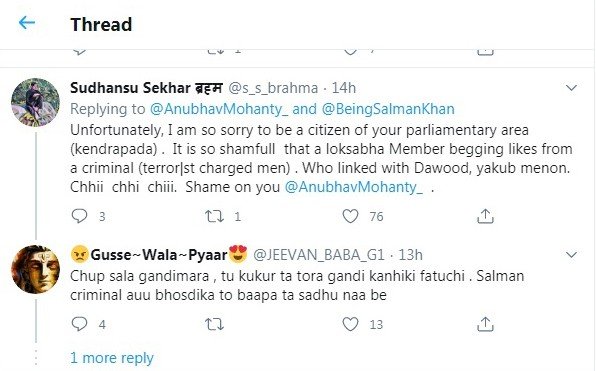 The MP had to face brickbats from the people of his constituency as he was conspicuously absent from his parliamentary segment. People had questioned his absence during the outbreak of the pandemic.
On these lines, an user Rajendra Hazira (@iluvukalam) wrote: Kama dhanda nahin ki…like pain Salman nku request karuchanti..gote tweet karunahanti Odisha ta employment pain..kendrapada development pain..dhanya @Naveen_Odisha babu..apananka selection.
The actor-turned-politician was also roasted for Hindi voiceover in the video with English subtitles.
ABK Sidhartha (@aaryan_sidh) wrote: You are a MP, have some self respect. Asking limes from the biggest criminal of Bollywood doesnt suit you. And whats your struggle with life, Sir? Building a body when everything is available with you, is that your achievement in life? And why could you make the video in Oriya?