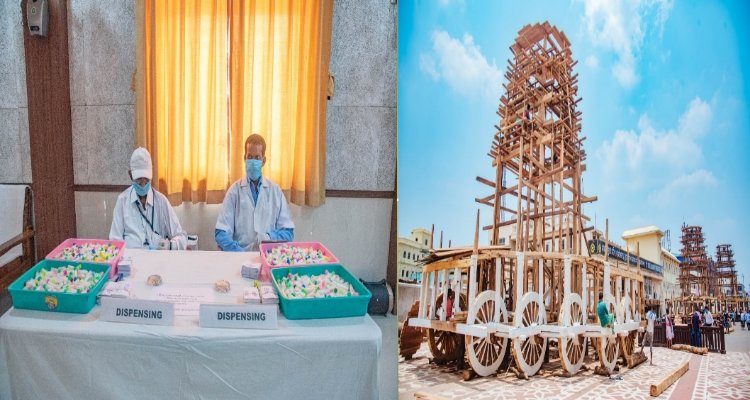 Health camp for servitor engaged in Jagannath's Chariot construction work
Puri (TF Bureau): In order to keep the servitors fit, Puri Homeopathic Research Institute today organized a health camp here.
The health camp began today at Niladri Bhakta Niwas and will continue till June 13.
The health workers will check the health condition of around 2,200 servitors of the temple during this camp.
Jitendra Kumar Sahu, Administrator (Rituals) of Shree Jagannath Temple Administration, Puri officially inaugurated the camp.
Homoeopathic medicines were distributed to 56 servitors' families. In addition, a total of 165 members, including the Bhoi servitors and the Maharana servitors and other members of the 12th century shrine, who have been working in the chariot yard, have been given homeopathic medicines.
Members of Pratihari Nijog, Suar Mahasuar Nijog, Pujapanda Nijog and Garabadu Nijog will be provided with homoeopathic medicines on the remaining days.
Importantly, the medicine has been distributed as per recommendation of the Ministry of AYUSH.
Among others who attended the camp were senior doctors like Dr. Umakant Prusti, Dr. Akshay Kumar Prusti and Dr. Panchanan Pradhan.