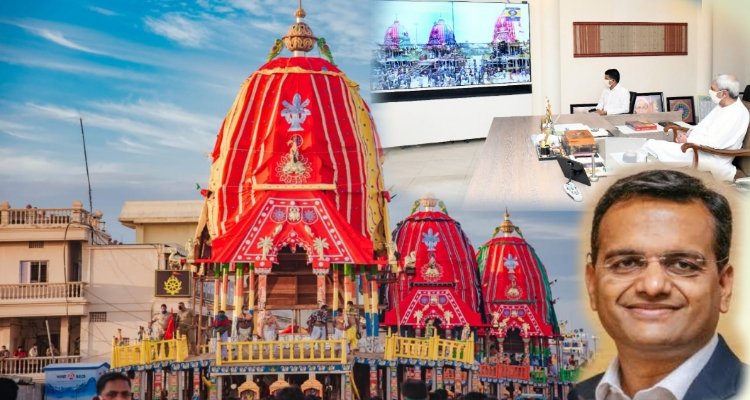 Rath Yatra during Covid19: a clockwork operation
Bhubaneswar/Puri (TF Bureau): In a departure from yesteryear's celebrations of annual Rath Yatra, this year's Chariot festival of the sibling deities witnessed a seesaw of events before its commencement, leaving many with their hearts in their mouth.
Amid uncertainty, the festival was organised in less than 24 hours. Credit, however, goes to the heroes behind the curtains: Shree Jagannath Temple Administration (SJTA) chief administrator Kishan Kumar, Chief Minister Naveen Patnaik, his private secretary VK Pandian and others.
Among others included three Ministers — Naba Kishore Das, Pratap Jena and Samir Dash who were rushed to the pilgrim town too camp there from the Day 1 of the festival till Niladri Bije — the return journey of the Lords.
Top bureaucrats as well as DGP also swung into action to carryout the blueprint prepared by the Chief Minister Naveen Patnaik.
While they were racing against time, meticulous planning and systematic execution paved the way for scripting another success story of the government.
Prior to that, the juggernaut hit legal hurdles as several cases were filed in Supreme Court. The Apex court did not allow the state government to conduct the car festival in view of the Covid19 pandemic. The highest court was of the view that religious congregation could accelerate the contamination rate.
While the judgement put could water on the plans, the devotees of the Lord of the Universe were left devastated. Several modification petitions were filed seeking to upturn the judgement. The court heard one of the petitions and allowed the government to conduct the yatra, with pre-conditions.
The chronology of events was no less than a suspense-thriller which culminated in a win-win situation for all the stakeholders.
This year's Rath Yatra will be superscribed in history books for being an unique event where it was pulled by servitors only without participation of devotees. Around 1500 servitors and policemen pulled the chariots after being tested negative for the deadly virus.
The Holy city that witnesses religious fervor during the annual festival was under curfew to prevent influx of devotees.
People had to experience the historic moment through their television sets at home.
On the other hand, the Chief Minister was keeping a hawk's eye on the progress from the Lok Seva Bhawan in the capital city.
Patnaik thanked the people, servitors, police personnel and other key personnel involved for their cooperation and hard work which made it possible.