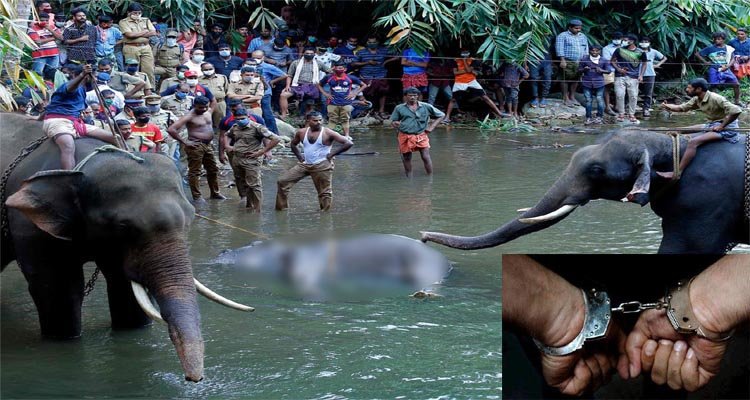 Thiruvananthapuram (TF Bureau): A man, who is in his forties, has been arrested for his alleged involvement in connection with the killing of a pregnant elephant in Kerala, informed Minister for Forests and Environment of Kerala K. Raju.
During a preliminary investigation, it has come to fore that the pregnant elephant could not eat for about 20 days before her death.
The accused, who is a rubber trapper, allegedly handled explosives and also assisted others, according to Chief Wildlife Warden Surendra Kumar.
The Kerala Forest Department had registered a case against the unidentified persons who were involved in this heinous crime.
Police have come to know that behind the killing of the jumbo not only the arrestee but more people were involved in the case. To nab others Kerala police have launched a manhunt, the minister added.
As you know, Kerala, the most educated state in India, is worried about the death of pregnant elephant. Cine stars, cricketers and even prominent industrialist Ratan Tata have taken to the streets in protest.
Union Minister Prakash Javadekar said strong action would be taken against the culprits, saying it was against Indian culture.
Kerala Chief Minister P Vijayan said the forest department was investigating the incident. Strict action will be taken against the culprits. Meanwhile, patrolling in the Mallapuram area has been tightened.
Notably, the wild elephant had entered into a village near Silent Valley National Park in Palakkad last month and is suspected to have eaten fruits stuffed with firecrackers in it which exploded in the elephant's mouth later.
In deep pain, the female elephant walked for days in getting some sorts of relief before she went into a river and died standing on May 27.
Sources said, villagers in the region often use firecrackers or explosives stuffed in food to kill wild animal affecting human lives and crop.